what is facial steaming.
Most of the times when you go to a spa to get a facial treatment you get your face steamed as part of the treatment. This is because facial steaming is an important element of the skincare routine. You don't have to wait to go for a facial to steam your face. You can actually adopt facial steaming into your home skin care routine. Facial steaming is not something that is complicated. All you need is steam. It can be steam from a shower, boiling pot or a facial steamer gadget. The steam helps to open up facial pores, loosens up any dirt build up and softens blackheads. This makes it easier to remove all these impurities from the skin.
when to steam your face
The frequency of facial steaming depends on your skin type or whether you have any skin conditions like eczema. You may want to check with your doctor before you include steaming in your skincare routine. Facial steaming done at least 10-15 minutes once a week can be beneficial if you have very oily skin. I have an oily skin that is prone to blackheads so I try to steam my face 2 times a week. If you don't have much skin problems then once a week is just fine. Please do not steam everyday as that could cause your skin to dry out and increased inflammation.
What you can use to steam your face.
There are different techniques and gadgets you can use for steaming. They range from free and simple to lux and expensive. What you choose as your technique depends on you and how much you are willing to spend to get the treatment. You can use:
1. bowl or pot of hot water.
2. warm towels
I use a facial steamer. It is easier and you don't have to do much to get steaming. I chose facial steamer route because it's easier to regulate the steam temperature than using the other method. The steamer was made sorely for that purpose so it's calibrated to produce steam at the right temperature suitable for skin and it runs for the required time before it turns off. This way you don't get too relaxed and go overboard and burn your skin.
There are many facial steamers out there. Some come with extraction tools, some have shields, some are big while others are small. Just choose one that gives you the most value for your money and suits your budget. My facial steamer came with a blackhead extraction kit and a head band. I got it on Amazon. It is one of the cheap ones I found and the bonus was that it was on sale. It does the job, looks good on my dresser and I love it. If you would like to share the experience you can also get the exact steamer.
How to do facial steaming at home using a facial steamer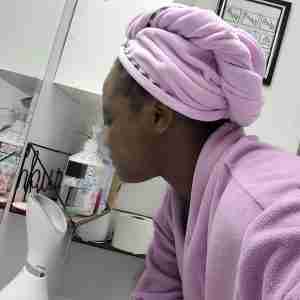 1. Gently cleanse your face with your favorite cleanser. This will ensure that your skin is clean and the steam will get right to your pores easily.
2. Put the required amount of water in your steamer and switch on. Wait for 30 seconds or until steam starts to come out. It is important to use distilled water so that you protect your steamer from clogging over time from the minerals in tap water. You also don't want those minerals on your face.
3. Lean in towards your steamer and make sure the steam is getting onto your skin. Don't go too close as you may burn your skin. Steam your face for 10- 15 minutes constantly moving your face so that the whole face gets steam.
4. Pat dry your face. If you want to exfoliate or use a face mask this is the time to do so.
5. Gently apply your favorite toner on your face.
6. Gently apply a moisturizer. Be careful not to use products with harsh ingredients as your skin will be more sensitive after steaming.
There you have it. No need to break the bank to get a cool facial.
Happy steaming.
DISCLOSURE: THIS POST MAY CONTAIN AFFILIATE LINKS, MEANING I MAY GET A COMMISSION IF YOU DECIDE TO MAKE A PURCHASE THROUGH MY LINKS, AT NO COST TO YOU. PLEASE READ MY DISCLOSURE FOR MORE INFO.