Autism sensory issues are usually a part of the everyday lives of kids on the spectrum. Children on the autism spectrum respond or process their environment differently. They do not sense things in the same way that we all do. In simple terms it just means that their brains have trouble receiving, processing and responding to the different information provided by their senses. Now in this article I will walk you through the different autism sensory issues. I will share with you the different autism sensory products that I have found to be helpful.
Disclaimer: I'm not a therapist, healthcare professional, nor do I pretend to be one on this blog. I am just a mom who has handled her fair share of motherhood challenges and is happy to share those experiences with others. The content on this blog is provided for general information purposes only. Please consult your family doctor or healthcare team for factual advice regarding your child's specific challenges.
Over-Sensitive/Sensory Avoiding
A child on the spectrum may be over sensitive to certain sensations or stimuli. In this case it means that it only takes a small amount of sensation to get them highly stimulated. Oversensitive kids will become distressed when there are loud noises. Things like escalators or swings moving too fast, bright lights, certain smells and they like bland food. Kids who are oversensitive may sometimes be referred to as sensory avoiding.
Under-Sensitive / Sensory seeking
On the other hand some kids on the autism spectrum may be under sensitive to environmental stimuli. For these kids it takes a lot of effort for them to be stimulated. As a result they try different ways like running, Jumping, rocking or spinning to seek out the stimulation. They are sensory seeking. Sensory seeking kids are usually hyperactive.
Both sensory avoiding and seeking
You should know that it's also possible and quite normal for kids to be on the fence. This is when they are over-sensitive in some sensations and under-sensitive in some sensations. My son falls under this category of autism sensory preferences. He is sensory seeking when it comes to movement, sight, smell and taste. As for touch he is sensory seeking when it comes to his body and loves tight hugs. However he only wants to touch hard surfaces and dislikes sticky things on his hands like mud, paint, kinetic sand or mushy food. For sound he likes certain sounds and uses different kinds of voices but will also cover his ears when there are a lot of people outside, lots of traffic. He can hear the faintest sounds. The following are autism sensory products that I have bought to help my son's sensory issues.
So compression sheets are great autism sensory products if your child is sensory seeking. I have found out that not many people know that there is something like this that exists to help kids sleep better. They are not as heavily advertised as the weighted blankets. Autism sensory sheets are light weight and made from stretchy breathable material like nylon and spandex combination. Sensory sheets can be easily machine washed and tumble dried. I bumped into this compression sheet when I was researching on why my son prefers to sleep inside the fitted sheet instead of his normal flat sheet. I just wanted to understand his need to go that deeper into the bedding. The research helped me learn that it might be because he needs more pressure to calm down and get the stimulation he needs to sleep.
getting a compression sheet
Autism sensory sheets started to pop up during my browsing after that and I just decided to try it out. I bought a twin size and it was delivered the next day. Well, let me just say I wish I had bought this earlier. My son loves the sheet and it has made bedtime easy, we don't have to go back and forth about sleeping in the fitted sheet anymore. He actually sleeps well now and most importantly he sleeps through the night. It's not unusual to find him lying in the sheet even during the day. He loves it that much. It's been more than 2 years with the sheet, it's still intact and very much in shape. Definitely one of my best buys.
Just like the compression sheet, deep pressure vests are other autism sensory products. It is designed to offer sensory input to sensory seeking children. It's breathable, adjustable and can be worn under or on top of other clothes. As a sensory seeking child my son is always asking for hugs or tight squeezes. He usually got to wear his weighted vest at home for a few minutes during the day. Now with him starting Junior kindergarten, in person learning in the middle of a pandemic I was worried that he would go to school and try to hug teachers and other kids. (Ps he doesn't understand personal space or boundaries yet).
I knew he couldn't wear the weighted vest all day. Therefore I went back online to search for something similar. I saw the vest, read a bunch of mixed reviews and decided to try it out anyway a few weeks before the schools opened. You know with autism accessories you have to try a bunch of them until you find the right one. I Just made sure that I measured his tiny body to ensure that I got the right size for him. The pressure vest is awesome. Helps him to stay focused. I noticed that there is less running, jumping or spinning when he is wearing the vest. His teachers love the vest too. They will notice if he Is not wearing it because he will be all over the place. We ended up buying one to keep at school.
Tips to remember when buying the vest,
make sure you have your child's accurate measurement because it will not work if it's too big and it won't be comfortable to wear all day if it's too small.
always put a t-shirt or cotton vest on under the pressure vest because putting it directly on the skin may cause a lot of sweating for the kid.
the care label says to sponge wash it and hang dry. but I have used a washer and dryer every week to wash it for the past 3 months and it's still as good as new.
The weighted vests are autism sensory products that help with sensory overload, calming and staying focused. Of all the pressure and compression items this one is quite expensive. I guess it's because it can be used as a weighted vest. Since the weights can be removed it can also work just the same as a compression vest. It still has the same benefits as the pressure vest, but this one provides more sensory input. You can notice a change in behavior as soon as you finish putting it on the child.
The weighted vest was one of the first things we got for our son. It was a recommendation from his OT. It helps to calm him down, stay focused and it gives me a break from hug duty. Don't get me wrong, I mean I love giving him hugs and squeezies. Sometimes the frequency just gets too much also, the tightness of the hugs can get exhausting and painful. I have also put this in a washer and dryer every other week for a year now. It's still as good as new. The downside of weighted vests is that you should make sure that your child only wears it for a short time and take it off. If you want full day use then remove the weights.
Ok, I understand that the list seems to have a lot of weighted autism sensory products. But I promise I'm getting to the last one. If your child is sensory seeking you will definitely find yourself; shopping for a lot of weighted products. Right now I'm looking for weighted pants to deal with other sensory issues. But that's a story for another day. Now weighted blankets and weighted lap pads have the same function. It's just that the lap pad is portable and easier to carry around and use when sitting. You can also get a weighted stuffed animal instead. The lap pad is the school's favorite because it helps my son stay calm and focused. Most importantly it helps him to sit for longer periods of time on his desk. It's easy care as you can machine wash it and tumble dry on low heat.
The weighted blanket as the name implies is part of autism sensory products used for sleeping. They enhance the child 's sleep quality. They provide the right amount of pressure and weight needed for kids to calm down and sleep. Both the blanket and lap pads are made from cotton and the glass beads make up for the weights. They also come in different colors and print designs you can choose from. The weighted blanket pairs very well with the compression sheet. Because of these sleep items we have graduated to sleeping through the night and seeing our son the next day. I can't remember when I last woke up during the night to sooth him back to sleep.
However one of the downsides of these two weighted blankets is that the weights cannot be removed you will have to make sure that the blankets are dry at all times. The other thing is that weighted blankets can be too warm to use for the summer season. In those hot humid times I just use the compression sheet on it's own.
I love noise cancelling or reduction headphones. Because of them we have managed to go to festivals that are crowded, with lots of loud music and still enjoyed the experience as a family. The headphones are quite affordable if you want the basic ones. I think we have four of these headphones, one for school, one for his bag, one for my bag and one we keep in the house. You just never know when you might need them better to be prepared than be sorry. 99% of the time your child will need to use headphones when you step outside.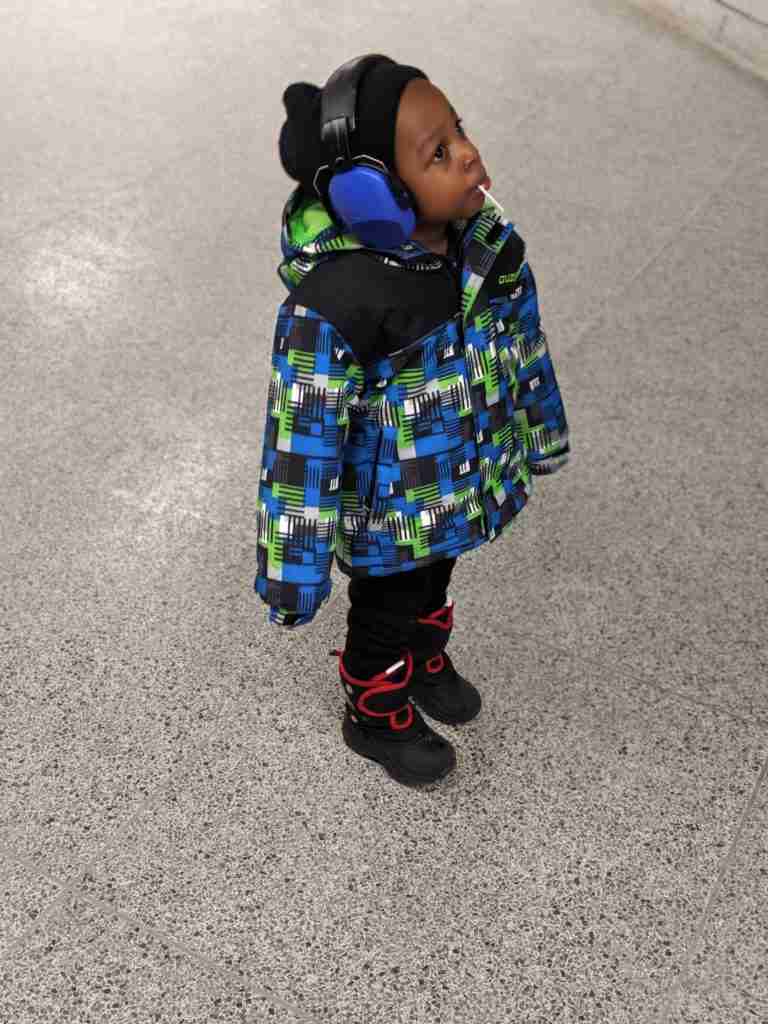 What I like about the headphones is that they are designed for kids' ears. They can be adjusted to fit children from 3-12 years so I know I'm going to be using them for a long time. These headphones are compact, portable and lightweight. They are foldable therefore they can easily fit in my handbag without using much space. The most important thing is that my son knows how to wear these headphones on his own even though he doesn't know how to dress himself yet.
Fidget Toys
Fidget toys are known to be great at reducing stress and anxiety in autism kids. They help keep focus and concentration in check. Fidget toys come in different shapes, sizes,colors and material. We decided to try out fidget toys after we noticed our son's obsession with spinning wheels on cars and bicycles. He also liked to move kitchen cupboard doors back and forth. There was always some kind of toy with moving parts in his hand everyday. We tried the cube and it didn't work out even though it had a lot of options. We tried a lot of spinning toys and stress balls and it didn't work until we bought a bunch of different items and let him pick one out.
Teachers and therapists love fidget toys when working with our son because fidget toys help him absorb more information, self-regulate and stay calm. The greatest advantage about fidget toys is that they can be used anywhere without distracting others. The only downside about buying a fidget toy for kids is that it's difficult to get the correct one the first time. For that reason I would recommend buying a pack of different fidget toys so that you let your child try them out until they pickout the perfect one. It's not the parent's choice because the use and effectiveness of a fidget toy depends on whether your child is sensory seeking or sensory avoiding.
Chewing on things is not really a big deal until you have to replace t-shirts every other week. It's common for kids particularly those on the spectrum to feel the need to chew on something all the time. Chewing may be helpful in calming kids down and in most of the times it's a self regulating technique. Chewing helps autism sensory seeking kids with oral stimulation. It's important to make sure that your children are chewing on safe items or tools to prevent them from choking or ingesting harmful chemicals. There are different types and a variety of sensory chew toys out there. They can come in the form of bracelets, necklaces, rings and bars. What matters most when choosing a chew toy is your child's age and firmness of the chew toys material.
choosing a chew toy
We went through different types ourselves. Some sets came as a 4 Pack but could not last us even a month. We found that the older our son got the firmer or harder the material we required. In the end we settled for a chew stick sorely based on the good reviews. It turned out to be the one that lasted until he grew out of the need to regularly chew on something. We still don't know how he broke that habit but all the same we are very grateful for that milestone.
So if you are picking out a chew toy for a child 3 years or older you definitely want to avoid the softer materials or anything with a string. They are usually not durable as the area around the string tends to be the one to get chewed off first. You can try these original non flavoured chew sticks we found on Amazon. Maybe they will work out for you.
Every autism parent knows how hard it can be to cut your child's hair. The sound of the buzz cutter alone is enough to send our little ones into a meltdown. I personally ended up resorting to cutting his hair using plain old scissors. It was never a clean cut, what I basically did was trim down his hair. It was not neat or perfect but it saved me the pain and hustle that came with using a buzz cutter. One day in one of the autism Facebook support groups I just saw someone commenting on how they had found a much quieter buzz cutter developed to suit autism sensory needs.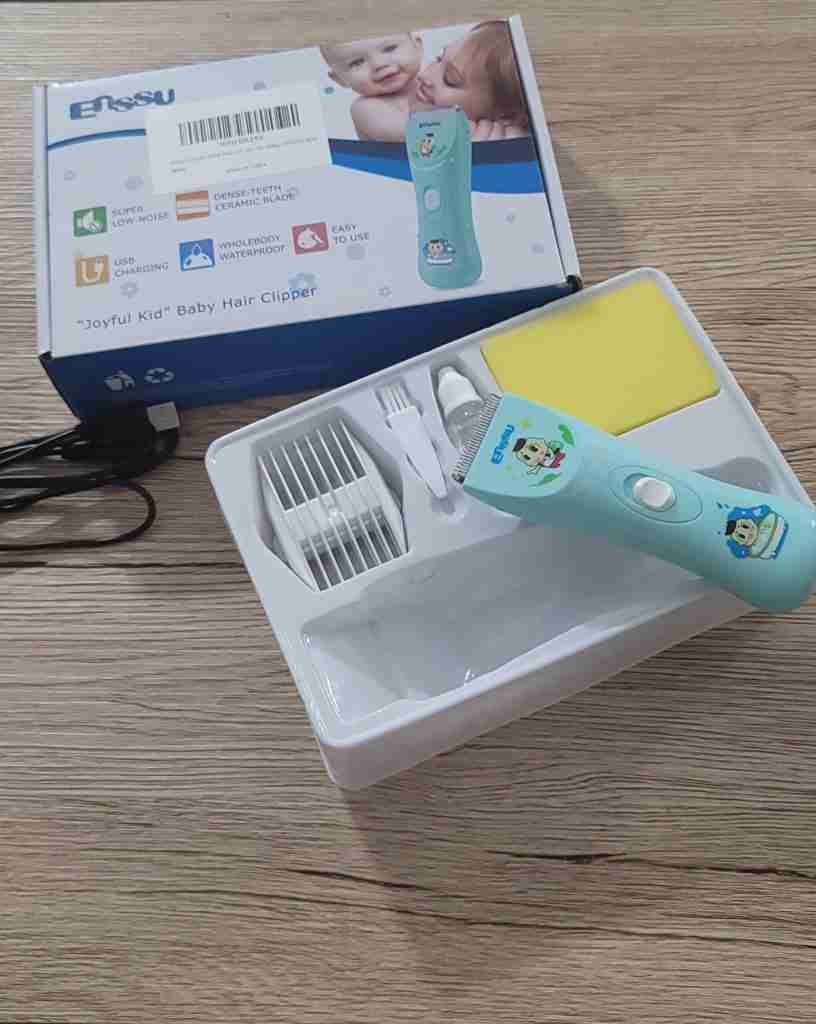 to buy or not to this sensory product
Well, you guessed right I went online and bought the buzz cutter. It was reasonably priced considering that it's waterproof so you can use it even in the shower, it's rechargeable using a cable to save on batteries. Now after using the buzz cutter for a while I can say when it comes to the noise it's not as quieter as I had hoped for but it definitely has a low vibration sound. Dear son doesn't mind getting a haircut now and can actually sit down properly for the ten minutes. For that this buzz cutter ranks high on my list of best buys.
ok, now let's sum it up before I write a book …
Wow this turned out to be a long read. I just wanted to share as much detail as I can on some of the autism sensory products that have made our lives easier. I'm sure by now you have figured out that I buy most of my stuff online. The free shipping and fast delivery is just so convenient so l can't help it. Also I don't have to leave the house which is a huge plus for me. I will be updating this list of autism sensory products each time I get something useful so lookout for that. I hope you found this read helpful. Do leave a comment below if you have anything to add to the list or you have a specific topic you want me to share on.
Happy Parenting!